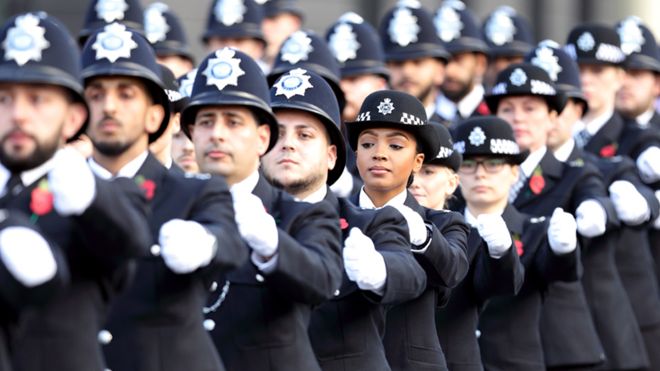 The recruitment of 20,000 new police officers in England and Wales will begin within weeks, Prime Minister Boris Johnson has said.
The College of Policing welcomed the pledge but warned of "logistical challenges", partly because of concerns of a lack of instructors for training.
It is "not just getting people through the doors", its chief executive said.
Forces in England and Wales lost more than 20,000 officers between September 2009 and September 2017.
Mr Johnson said he wanted the recruitment – which will be overseen by a new national policing board – to be completed over the next three years.
Mr Johnson said: "People want to see more officers in their neighbourhoods, protecting the public and cutting crime."
Downing Street said a recruitment campaign would begin in September, with forces held to account for meeting the target by a new board, bringing together police leaders and led by Home Secretary Priti Patel.
Newly appointed Policing Minister Kit Malthouse said the plans would cost around £500m in the first year, but said "we still have to work out the exact number".
He said: "In the end that money is going to come from general taxation or indeed some of the headroom we've got fiscally on the borrowing.
"You deal with what the priority is and you make the rest fit," said Mr Malthouse.
Read more >>> www.bbc.com