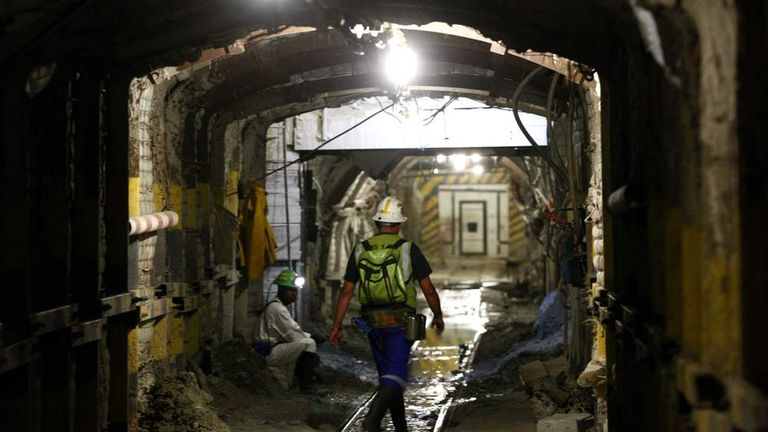 Workers of the Ghana Manganese Company(GMC) in Tarkwa have been asked to go home until further notice.
The announcement was made when the Union and Management met the workers on Wednesday morning.
The Human Resource Manager of GMC Tarkwa, Adjei Mensah made the announcement after he informed them of government's directive to them to shut down the company.
The workers of the company have subsequently threatened to demonstrate against the government in two weeks time over the issue.
Government through the Minister of Lands and Natural Resources, Kwaku Asomah Cheremeh, ordered the Ghana Manganese Company Limited to shut down operations due to alleged nonpayment of taxes and price manipulation between the periods of 2010 to 2017.
The company has been under investigation since February 2019 after preliminary checks of its finances revealed several infractions.
"GMCL has not shown strong commitment to value addition in particular. There are also defaults by the company in the payment of annual minerals rights fees in excess of 4 million dollars. These and several infractions give me no option as the sector Minister than to close down the operations of GMCL."
"The company is therefore instructed to stop all mining exploration and export of minerals effective 6th August 2019. The Ministry together with the Minerals Commission and other relevant stakeholders will immediately commence discussions with Ghana Manganese to resolve this and other outstanding issues in the course of the shutdown," the Minister said at a press conference held on Tuesday.
The Lands Minister had earlier directed the management of the company to halt its mining operations due to inconclusive data on the company's operation and revenue.
The directive, according to a letter signed by the minister and dated January 31 was to enable the state to undertake a thorough and uninterrupted technical and financial audit of the mining entity.
We take tax obligations seriously
But GMC in a statement rejected the allegations levelled against it.
The company in a statement said it takes "its tax obligation seriously and last year we won the prestigious GRA Bronze award for tax compliance."
"In 2018, the corporation tax liability of the company was US$ 31 million which was settled before 31st December 2018 as required by the law. In relation to royalties, the company paid an amount of US$ 17 million in 2018. As at the time of this press release, all our tax obligations were up to date with the GRA. As a matter of fact we are still waiting for an amount of $20 million in VAT refunds due to us from GRA between the periods of December 2018 and June 2019. The records are there for everyone to check at GRA," the company added in a statement.
_
Source: Citinewsroom